TR-Amp Main features
NEW ES9038Q2M SABRE 32 Reference DAC Industry's highest performance 32-bit mobile audio DAC with unprecedented dynamic range and ultra-low distortion
Super Low ESR tantal capacitors in power supply
Includes a high level EarMen shielded female USB-A to USB-C Adaptor
3700mA battery with up to 10h of music enjoyment
Separate DATA and Charging USB type C ports allows you to use it all day long in your system
Analog volume control for Preamp and Headphone amp
Double Enjoyment with 2 pairs of headphones simultaneously
Analog switch for Direct DAC or PreAmp function
ALL METAL aluminum housing eliminate external noise sources
EarMen snd Auris Audio - High End Partnership
Sharing same ownership, it was natural to use same R&D resources already approved in design of High End audio products.
Texas Instruments Headphone Amplifier
TR-Amp headphone amp use Texas Instruments High Fidelity TPA6120 chip and allows music, not the amplifier, to be heard. TPA6120 current-feedback AB amplifier architecture delivers high bandwidth, extremely low noise, and up to 128dB of dynamic range.
Texas Instruments TPA6120 provides Superior Sound Quality with ultralow distortion and low noise.
Three key features make current-feedback amplifiers outstanding for audio. The first feature is the high slew rate that prevents odd order distortion anomalies. The second feature is current-on-demand at the output that enables the amplifier to respond quickly and linearly when necessary without risk of output distortion. When large amounts of output power are suddenly needed, the amplifier can respond extremely quickly without raising the noise floor of the system and degrading the signal-to-noise ratio. The third feature is the gain-independent frequency response that allows the full bandwidth of the amplifier to be used over a wide range of gain settings.
TR-Amp is noiselesse
Using a Super LOW ESR tantal capacitors, high grade components in power-supply design and 4 layer golden plated PCB technology from PC and smart phone industry we reduced the noise to minimum. This will improve super fine details especially in Hi-Res files where you can feel and hear the difference. 
CNC Aluminum Milled Enclosure
TR-Amp is robust and solid. Enclosure is made from high grade aluminum
It supports all types of files - from MP3 to MQA
32bit/384kHz PCM, DoP DSD256, Native DSD128 and MQA. Play It All Direct From Your Pocket! Use it all around from home to travel. TR-Amp can be great substitution for  any DAC.
*MQA (Master Quality Authenticated)
This product includes MQA Renderer technology, which can connect to an MQA Core signal and complete the final unfold of an MQA file. This product will include 'stream lock' but is not able to decode an MQA stream or authenticate it.
Visit mqa.co.uk for more information.
MQA is a registered trade mark of MQA Limited.© 2018
Made in Europe/Serbia
TR-Amp designed, produced and assembled in Europe. SMT production line is from Swiss and all components are sourced from European distribution. Up to 5 years of extended warranty is available on demand.
Stream Tidal Masters around the world
EarMen TR-Amp support Tidal Masters (MQA) playback from iPhones and Android smartphones. MQA's technology folds high-resolution files into smaller files that can be streamed on the go. As MQA Renderer, EarMen products complete the unfolding process, allowing music lovers to enjoy a wider selection of high-res music. Click here to learn more about how MQA works. 
Stream Qobuz's vast catalogue of outstanding Hi-Res Music
EaMen TR-Amp support Qobuz high-res playback from iPhones, Android smartphones, and MacOS and Windows computers. Qobuz streams and downloads music in bit-perfect FLAC, the most widely used format for mastering and archiving, at resolutions of up to 24-bit/192kHz. With TR-Amp, listeners can enjoy more than 40 million tracks in lossless 16-bit CD resolution and over 2 million hi-res files. Click here to learn more about how Qobuz works.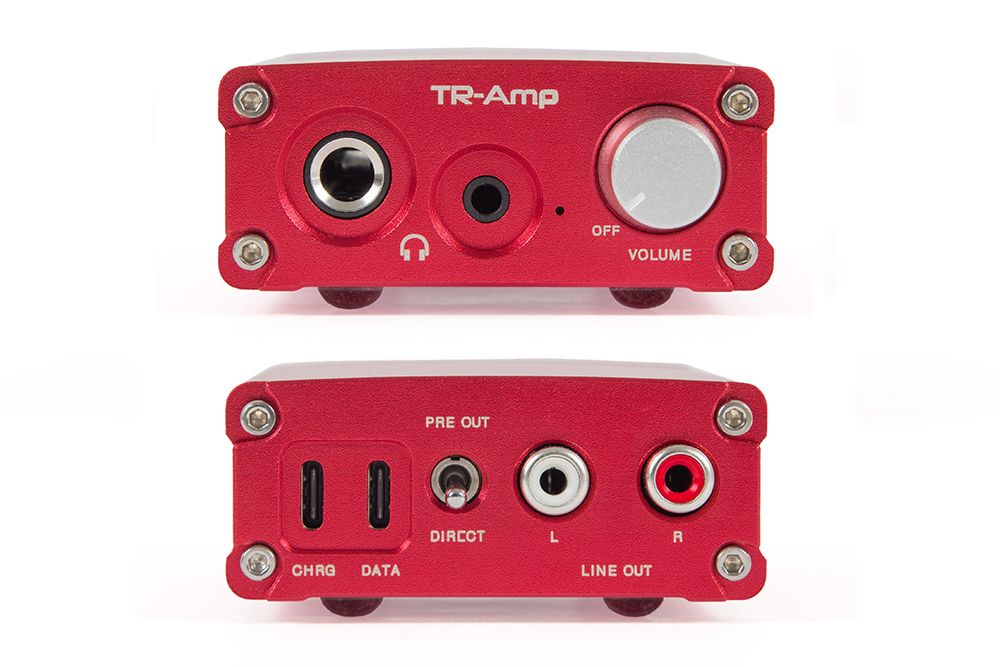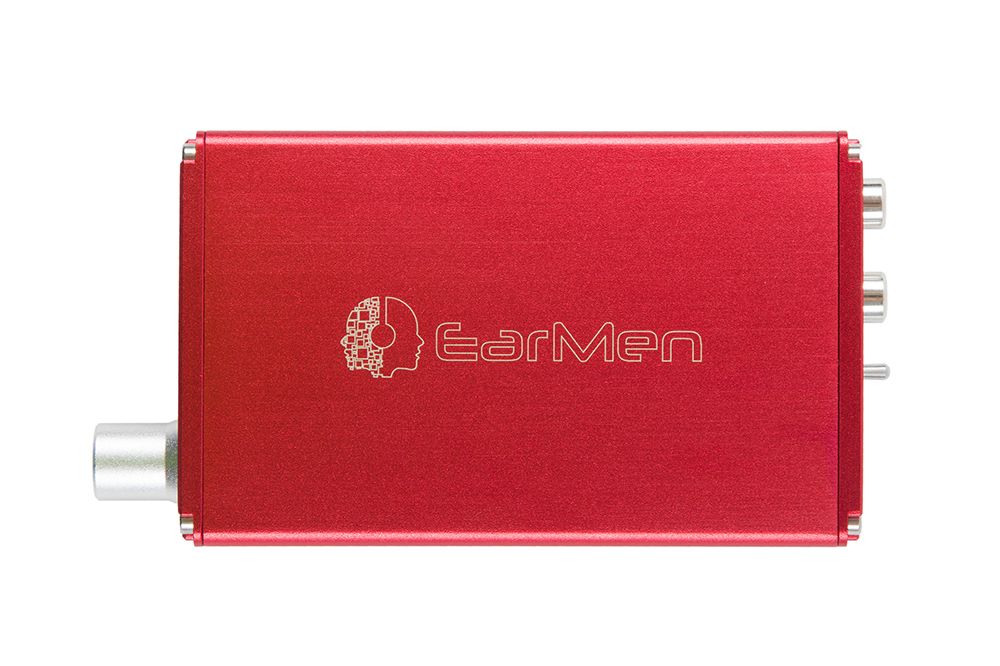 | | |
| --- | --- |
| Inuts | USB C / DATA |
|   | USB C / CHRG |
| Output | 6.3 mm Stereo |
|   | 3.5 mm Stereo |
HeadAmp
THD+N (2.7V, 32R)
<0.005%
SNR
>114dB
Dinamic range
>107dB
Power
16 Ω
>2.5V/400mW
 
32 Ω
>3.4V/350mW
| | |
| --- | --- |
| Audio Formats: |   |
| DSD | DSD 128 Native / DSD 256 (DoP) |
| DXD | 384/352.8 kHz |
| PCM | Up to 384 kHz |
| MQA Rendering | Up to 384 kHz |
|   | Visit mqa.co.uk for more information. |
|   |   |
| | | |
| --- | --- | --- |
| Line out | Direct | PreOut |
| Output | 2.1V | 3.4V |
| THD+N | <0.005% | <0.007% (2.8V) |
| SNR | >114dB | >114dB |
| Dinamic range | >107dB | >107dB |
| Chanel separation | >107dB (1kHz) | >103dB (1kHz) |
| | |
| --- | --- |
| Battery: | 3700 mAh / Up to 10 Hrs |
| Dimension L x H x W | 129x66x30 mm / 5.08''x2.6''x1.18'' |
| Weight | 240 gr / 0.53 lbs |
 Download Windows driver here
 Download TR-Amp User Manual here
 Charging the battery
Before charging, please make sure there's no moisture, dust or dirt on the charging contacts. When charging via a wall outlet, use a USB power adapter (not included in the product set) 5V/1A - 2A. Fast Charging is not supported. Only use an adequately safety approved USB power adapter.